News
The six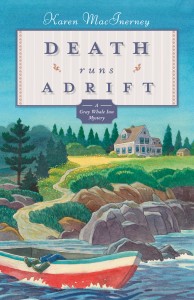 th Gray Whale Inn Mystery, DEATH RUNS ADRIFT, will be out in May, and the first reviews are rolling in. According to Kirkus, "MacInerney's charming sixth offers beautiful scenery, an assortment of appended recipes and one of her strongest mysteries to date." Music to my ears!
Lots of folks have asked me when the e-book edition will be available. According to my editor, it goes live just prior to the pub date.
Margie Peterson of MOTHER'S DAY OUT is getting a fresh look, too.
Read More
Karen MacInerney writes with verve and vitality, and her Natalie Barnes is a Maine original. I'm ready to book a room at the Gray Whale Inn!