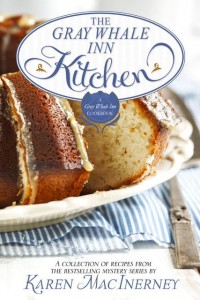 People have been asking me for YEARS to compile the recipes from the Gray Whale Inn mysteries… and I finally did!
You can buy The Gray Whale Inn Kitchen, which includes ALL the recipes from the first six Gray Whale Inn books, the two short stories, and a bonus recipe, at Amazon or Barnes & Noble for $2.99… or, as a gift to subscribers, download it for free.
Just fill in the blank at the top of the page with your e-mail address, look for the confirmation e-mail, and I'll send you the link for a free download to your Kindle, e-reader, tablet, or laptop.  I'll also send you deleted scenes, subscriber-only stories, recipes, and more.
As a bonus, the first chapter of Whale of a Crime (which will be available for pre-order in October) is included at the end of the book.  If you make one of the recipes, please send me a photo; I may tweet or post it!
Happy back-to-school time (my word count has gone up exponentially, and I'm thrilled)… and I'm browsing fall recipes now.  Check back soon for my favorite… and more news on Fatal Frost, Whale of a Crime, Mother's Little Helper, and all the other projects I'm working on!