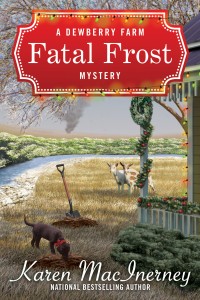 First, just a little reminder that Fatal Frost is up for pre-order… and it will be out in October!  It's a holiday mystery… with mulled wine, candied almonds, goats, and, of course, a dead body or two.  I really hope you enjoy it!
And second, September is turning out to be an active month for me.  I'm going to be at Bouchercon in New Orleans from September 15 – 18, and I'll be speaking on a panel at Austin Comic Con, which is September 23 – 25.  Come out and see me if you can… I would love to meet you!
I hope you've gotten your free copy of the cookbook.  If not, sign up for the newsletter… you'll also get free deleted scenes, recipes, and even a bonus Gray Whale Inn story.
It's back to the word processor for me… but more soon!