I know it's not even Halloween yet (although if you're dying to celebrate the spooky season with Lucy and the gang at Dewberry Farm, you can to to the Halloween Ball in Buttercup in  Deadly Brew), but here's a sneak peek of what's coming in December!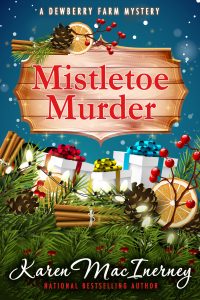 Without further ado, here's the cover reveal for the fourth Dewberry Farm mystery, Mistletoe Murder.  Many thanks to all the folks on my Facebook author page who helped me decide on the final version! The Kindle edition is available for pre-order now; the book will be out December 11, and yes, there will be paperbacks in time for Christmas. 🙂 I'm having a blast being back in Buttercup, and I think you'll love some of the new recipes Lucy and I have cooked up… I'll be sharing a sneak peek and a recipe with the Readers' Circle  soon, so be sure to sign up if you haven't.
And as an added bonus, the first two books in the Dewberry Farm series, Killer Jam and Fatal Frost, are 50-75% off through the month of October; you can snap up Killer Jam for a mere 99 cents, and Fatal Frost for $1.99. The magic ends at the end of October, though… so grab them while you can.
Lots more coming in the Gray Whale Inn mysteries (including a new book in early 2018 and possibly a holiday story), as well as a brand new series, so check back soon… and I hope you're enjoying a festive and cozy fall, wherever you are.  (Please feel free to send a cold front my way.)
Karen