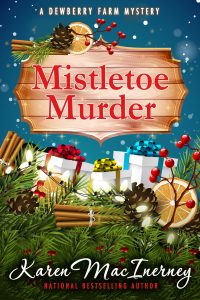 Happy Holidays!
I hope the season is finding you warm and cozy with lots of books and goodies to hand. But if your TBR pile is getting a little short or you're looking for a last-minute gift for a book lover, I want to remind you that Mistletoe Murder is ready for some cozy Christmas reading (and gifting)!
Readers are really responding to the new book, and I'm tickled pink. "This one is a charmer, making you want to go visit the Texas Hill Country during the holidays," writes one Amazon reviewer.
And from Dru's Book Musings blog… "From the murder, to the sweet romance of Lucy and Tobias to taking care of the animals and the farm, to the likable residents of Buttercup, Texas, this was the best book in this lovable series that leaves me smiling and wanting more."
Which is all very encouraging as I work on the fifth book in the series, Dyeing Season, which is set around Easter. I'll be revealing the cover soon! (Not to mention Claws for Alarm, the next Gray Whale Inn mystery… which is now up for pre-order! (The paperback will be available at release date, which is this March.)
I have some last-minute shopping and baking to do, so I'm going to sign off now.  Enjoy the peace of the season, I hope your stocking is filled with good books… and I'll check back in soon with a cover reveal!