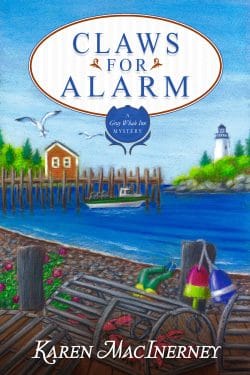 Happy February! I hope you're not too demoralized despite that groundhog punk Phil declaring six more weeks of winter!
If you need a little pick-me-up, here's the cover reveal for the eighth Gray Whale Inn mystery, Claws for Alarm, which is available for pre-order and will be out before you know it. Gwen and Adam are planning their wedding, Charlene's romantic life is on the rocks again, Claudette's goats are under threat, and there's yet another loose cannon on the island… until someone decides to take matters into his or her own hands. It's a summery read… a perfect antidote to sub-freezing days. (And I'm really excited about the recipes… yum.)
If you're a member of the Readers' Circle, check your inbox for a link to the recipe for Natalie's Guiltless (Or Gluten-Free, Anyway) Flourless Chocolate Cake!
In other news, I'm working on the fifth Dewberry Farm mystery, Dyeing Season.  (I'll have that cover reveal and pre-order in the next Reader's Circle update.) I'm really excited about this one. It's kidding season at the farm, and a lot of people are getting their feathers ruffled over… chickens. There will be plenty of bluebonnets, dyed eggs, baby goats… and, of course, murder. (Goats and murder. I'm noticing a theme in my work lately. Huh.) At any rate, I'm having a blast writing it!
I also want to let you know that the first two Dewberry Farm books, Killer Jam and Fatal Frost, are on sale for only two bucks each through the end of February (that's for e-book… paperbacks are also on sale, I believe). Get them cheap while you can!
I hope things are warm and cozy in your part of the world.  Thanks as always for all of your support, and I'll be in touch again soon!  <3