Fatal Frost (Dewberry Farm #2) available for pre-order, free Gray Whale Inn cookbook… and Margie's only $2.00 until the end of July!
Lots of things going on this month! First, both books in the Margie Peterson series are in the Kindle 50 Books for $2.00 list this July… snap them up before they disappear! (Or you can buy both books for only $3.60… a steal!) I'm busy wrapping up the third book in the series, Mother's Little Helper, now… more news soon.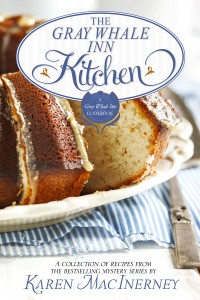 Second Fatal Frost is available for pre-order! This Dewberry Farm holiday mystery will be out in October… I can't wait for you to meet Gidget and Hot Lips, the new additions to Lucy's farm!
Third, I'm almost done formatting The Gray Whale Inn Kitchen… this compendium of Gray Whale Inn recipes will be available in August as a $2.99 e-book… or free to newsletter subscribers.  I'll be sending subscribers an e-mail with instructions for downloading as soon as it's ready, which will be in the next few weeks.  You can sign up to receive your copy at the top of the home page (you'll also receive subscriber-only bonus material like free stories, recipes, deleted scenes, and updates from MacInerney Mayhem)… in the meantime, for daily updates, please feel free to check in with me at my author page on Facebook.
And last but not least, if you live in Austin, I'll be on a panel discussing writing groups at 7:00 Thursday, July 21 at BookPeople.  (For details, click here.) I hope to see you there!