A new release and a re-release
The six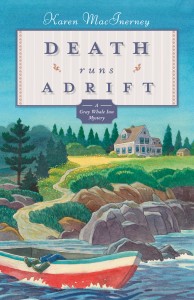 th Gray Whale Inn Mystery, DEATH RUNS ADRIFT, will be out in May, and the first reviews are rolling in. According to Kirkus, "MacInerney's charming sixth offers beautiful scenery, an assortment of appended recipes and one of her strongest mysteries to date." Music to my ears!
Lots of folks have asked me when the e-book edition will be available. According to my editor, it goes live just prior to the pub date.
Margie Peterson of MOTHER'S DAY OUT is getting a fresh look, too. Amazon's mystery imprint, Thomas & Mercer, is re-releasing the book in April, just in time for Mother's Day.  As soon as I have final cover art, I'll post it!
In the meantime, I'm working hard on KILLER JAM, the first in my new Dewberry Farm cozy mystery series, and a stealth project that's been eating me for lunch.  I'm also spending some time gardening and walking around the lake in Austin's beautiful spring weather, planting seeds for future mysteries with Margie and Natalie.  I have lots of ideas… just need to find the time to get them all down on paper.
My publisher is looking into putting together a blog tour, which is always fun.  We'll see what happens… I'll let you know if it's a go!